Are you ready for the New Normal? 
Since the beginning of the COVID-19 crisis, we have been studying the situation for our clients. Based on the number of data collected, we started to create reports for global brands explaining the situation, changes in customer behaviors, and new trends in South Korea, with customized recommendations from our experts on their digital strategy. 
In this post, we decided to give away some of the insights we gathered from our studies to give a preview of what we can achieve for you. If you are interested in getting a customized report for your own brand, contact our team in the form below!
---
The prolonged COVID-19 situation impacted many parts of our lives and caused changes in every aspect, including our economy, the way we interact with each other, or how we spend our time and enjoy ourselves. Despite South Korea being the second country with the most cases after China by February, the number of cases is controlled and Koreans are living in what we call a New Normal since May.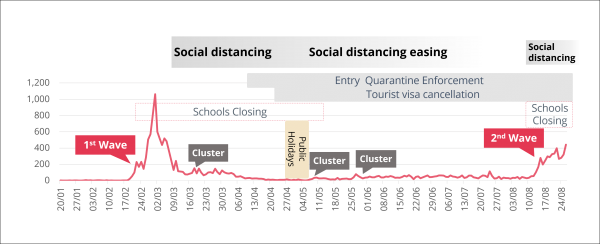 Unlike other countries, South Korea never implemented a population lock-down. From February to mid-April, a social distancing recommendation was issued by the government leading to school and universities closing alongside remote-work implementation for most businesses. Since May, social distancing is eased, employees are back to their offices and schools reopened during June. However, as there are still cases and people are careful of a second wave, it is still difficult to hang out, enjoy outdoor activities or travel. To cope with the prolonged situation, Koreans adapted and new trends emerged to enjoy time indoors with a pick of online activities and services. 

As people spend more time online, Digital Marketing is now more important than ever, and brands need to evaluate their service and activity to see if they meet the new consumer expectations fitting to the new normal trend. Whereas some of the changes that arose during the pandemic will quickly go back to the way they were before, some of the changes will prolong into the future and need to be understood. 
Let's take a look at some of the key trends that arose during this crisis in South Korea.
CONSUMPTION BEHAVIOR TRENDS SINCE COVID-19 IN SOUTH KOREA
While people spend more time at home and avoid going outside, especially in crowded places, time spending habits and consumption behaviors have changed, leading to what is called a "New Normal". Major trends emerged or accelerated, let's take a look at some of these.
#untact (un + contact)
Situations which avoid face-to-face direct contact between people

The Untact trend was already becoming increasingly visible before the crisis, and the pandemic further accelerated the familiarization of Korean people with such services. Whereas Untact services were mainly preferred because of convenience, the pandemic added the factor of safety. 

#homconomy (home + economy)
Consumption shift to the inside of a household's home

Whereas the HomConomy trend already saw a rise from 2018 its growth accelerated even more in 2020. People are increasingly acceptive of spending more time at home and alone. From this trend, sub-categories such as homtraining, homcafe, and homsul also saw a rise. 

#flexzaringobi (flex + zaringobi)
Polarizing consumption behavior that combines extreme saving and excessive spending

The new trend called 'flexzaringobi' evolved during the pandemic. Especially among the MZ generation, this trend is perceived positively as this is a way of expressing that people are willing to invest in what they perceive as important for their happiness.
While most of those trends were already visible and rising before, the crisis accelerated the changes and familiarization of Korean with such services. Koreans are now used to more convenient and rapid services, allowing consumptions at home and exchange with minimum to no person-to-person interaction.
DIGITAL MEDIA EVOLUTION DURING COVID-19 IN SOUTH KOREA
As Korean customers do more online shopping and spend more time on digital platforms, brands need to know about the specific digital ecosystem, the changes, and evolution that happened during the crisis to connect to them. Diversified from internet portals to big open market players and rising category killers, each platform has different content and user segments. Brands should know what content and channel MZ generation and other users segment use to get their attention. We gathered some key facts and insights to grasp the evolution of the South Korean digital ecosystem.
• Daily usage of mobile apps in Korea was 3.4 hours in 2019 (4th country in global among Android users)
and it has increased by 4 hours during COVID-19
• Digital media's advertising expenses grew and overcame the traditional media from 2019
• Usage of digital media rose from 6 to 34% for video content platforms, Netflix and Tiktok having the largest increase in Q1 2020
PLATFORMS EVOLUTION
Following the increase in digital consumption, major platforms saw a record in sales and views. In South Korea, Naver and Kakao are the major communication and sales channels. They are now focusing more on their services for brands and, to this end, have launched new commerce services in 2020. They started live commerce at the end of 2019 and expanded the service in 2020 during COVID-19. On the video platform market, their usage arose dramatically during the pandemic, and as the most used video platform, YouTube became an alternative channel by traditional media. Social media platforms like Facebook and Instagram expanded, even more, their offers as purchase channels.
Apart from already big players, some platforms had been rising before the pandemic which growth accelerated even more during the pandemic. Especially if the younger audience is the key target, such platforms are to be considered. We would recommend taking a look at platforms such as TikTok or Grip which users' numbers and sales have risen dramatically since the beginning of the year.
A SHIFT IN CONTENT CONSUMPTION
The shift of media platforms also influenced what type of content consumers enjoy. To gain more engagement from customers, brands should understand what type of content Korean are interested in and will interact the most with.
• Shoppable: ​The gap between the customer journey stages 'awareness' and 'purchase' shortened as consumers prefer
to have an option to purchase directly while viewing the content and receiving information
• Video and OTT: with the significant rise of OTT platform, those pose as a new alternative to traditional channels like TV or cinema
• Fun: As people spend more time enjoying entertainment content online, the fun factor became leverage for more engagement
• Local: even before the pandemic, local content by the brands had more engagement but this trend accelerated
as the country isolated itself.
TAKEAWAYS
Past crises always created changes and opportunities, and COVID-19 is now opening growth chances for digital platforms and their services. Digital literacy and usages accelerated for all ages and consumer groups, especially in Korea. Due to this fast development, big digital platforms are stronger and bigger than ever.  Today, a digitalized consumer journey is the default bottom line and as touchpoints evolved, brands must identity relevant changes. 
• Strengthen the link between social media and e-commerce
• Elaborate on the expansion of diverse O2O services
• Increase efforts in providing untact services
• Expansion of more adequate and relevant content and products
---
Behind the report / Post COVID-19 Insight Report – What's on it?
Digital activities are now a must-have in South Korea for all brands. We saw important changes in the trends and customers' behaviors, changing the touchpoints, and the way brands can attract and interact with customers. With our internal expertise, Asiance developed specific services to help brands adapt their digital ecosystem and strategy in South Korea, post-COVID-19. 
Asiance's Post-COVID-19 Insight Report is a customized research report that highlights changes in customers' behavior during the COVID-19 pandemic in South Korea and emerging trends that impacted the digital scene. The research specifically focuses on the Korean digital ecosystem and provides insights through case studies in Korea. The report is then concluded with customized recommendations on how to adapt to post COVID-19 New Normal as a brand and properly maintain the relationship with customers.
• Data: To understand customer behaviors and trends
• Case Studies: To benchmark Brands and their actions in Korea
• Pro Insights: To get customized recommendations from our experts
Interested in this service?